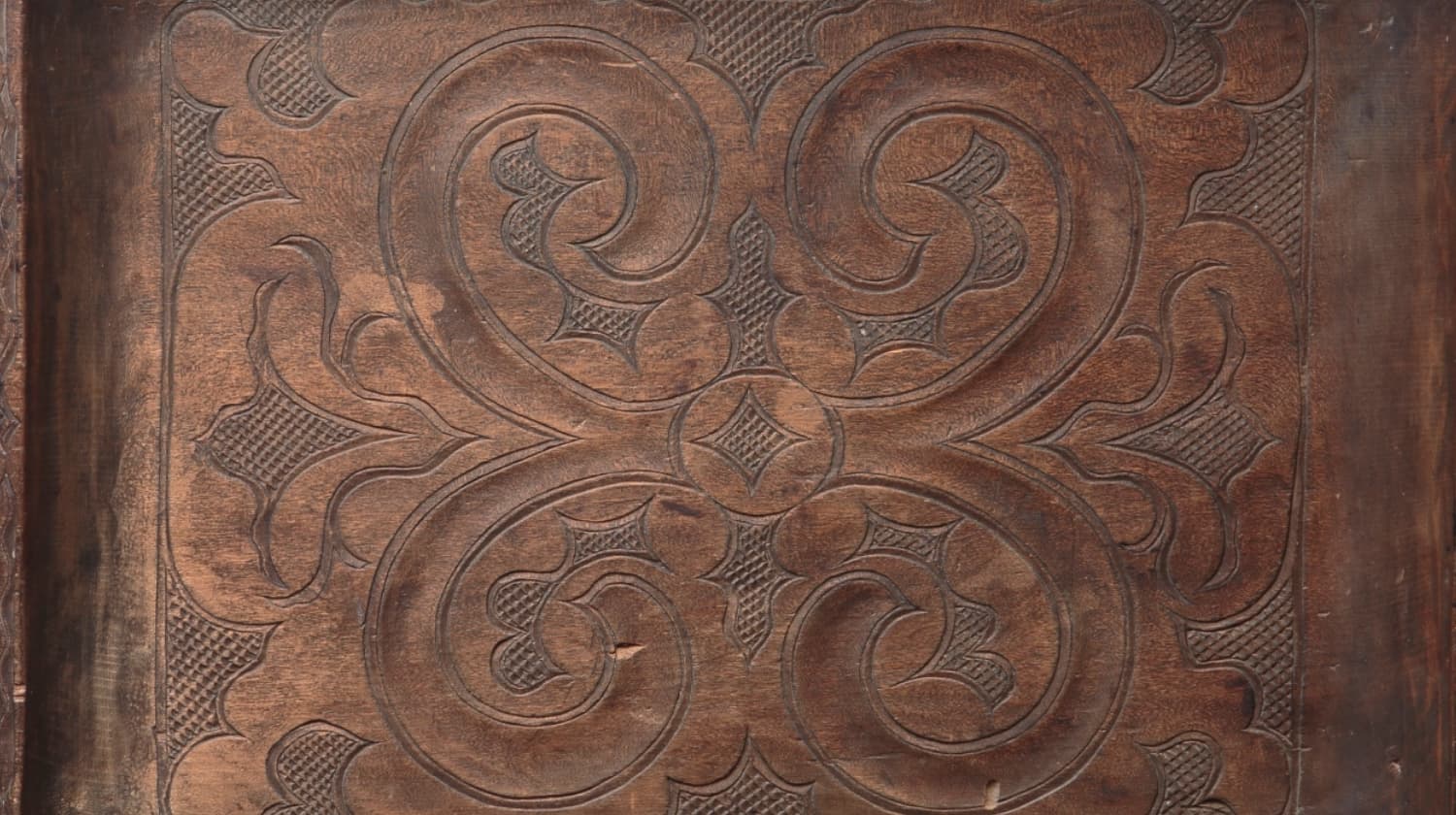 Nibutani-ita is a flat wooden tray made in a style that has been handed down for generations in the Saru River basin, which is now concentrated in Nibutani, Biratori. Ainu traditional culture includes a strong tendency toward decorating such items for daily use, like knife sheaths, cigarette cases, clothing, cushions, loom shuttles, and so on, with beautiful patterns. The primary characteristic of these crafts, made from wood like Japanese Judas or walnut, are the way the surfaces are carved with common Ainu patterns like morew-noka (spirals), ayus-noka (thorns), sik-noka (eye shapes), or ramram-noka (scales).
The first reference to Nibutani's ita in historical documents is during the bakumatsu, the final years of the Tokugawa shogunate (1853-1867). Among the products presented by the Matsumae domain to the shogunate, there are records of semicircular and circular trays from the Saru River basin. The selection of these trays for presentation to the shogunate indicates a very high level of quality, suggesting that this region must have a long history of producing such crafts.
From 1890, Kaizawa Utorentoku and Kaizawa Uesanashi began selling trays and saucers that made extensive use of the ramram-noka pattern. Biratori Choshi ('History of Biratori Town', 1974) documents that these men sold their crafts in Sapporo. Today, Kaizawa Uesanashi's crafts are kept at the Biratori Municipal Nibutani Ainu Culture Museum, where you can observe the similarities in patterns and style between these and present-day works.
In 1904, the American anthropologist Frederick Starr visited Japan to conduct research on the Ainu. The materials collected by Starr included Nibutani-ita.
Now, the Nibutani Craft Cooperative Association is a focus for the production and sale of Nibutani-ita, as well as working to pass on the traditional techniques to future generations.
With the official designation as a Traditional Craft Item, a new chapter is ready to open for Nibutani-ita.

As an ita is used for 5, 10, or 20 years, it develops a deeper and deeper expression of the relationship with its user. We hope you will look forward to encountering the true value of Nibutani-ita.